Nagasaki University has a tutoring system in place to help newly arrived international students adjust to their daily life, studies, and research in Japan. This system pairs Japanese students or international students who are familiar with life in Japan with one international student, providing them with Japanese language support for their daily life and academic pursuits. Here, I will provide a detailed explanation of the tutoring system at Nagasaki University.
Tutor System
The tutoring system is a system that assigns tutors to newly arrived international students in order to help make a smooth adjustment to daily life, studies and research. The tutors are Japanese students from Nagasaki University or international students who are accustomed to life in Japan. In principle, one international student is assigned to one tutor. Tutors will be compensated by Nagasaki University.
Period
In general, tutors are only assigned to international students and research students in their first year in Japan. If the period of enrollment for the international student or research student is less than one year, the tutor will be arranged according to the scheduled period of enrollment.
Structure of the Tutor System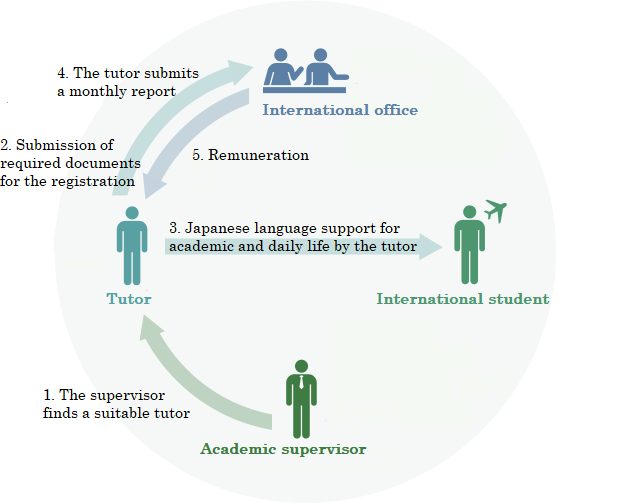 Procedures before Beginning Program
Tutor Determined

The supervisor selects a tutor from students related to the field of studies that an international student majors in.

Submission of Required Documents

Submit documents to the office by the deadline

Transfer request (master copy) registration form
Dependents Tax Deduction for Salary Earners (transfer) form or Notification of non-submission
Copy of my number card or my number notification card
Copy of the student identification card
Copy of bankbook

Relevant documents will be sent by Email.

Implementing Tutoring Activities

Providing Support for International Students
If you have any questions, please contact the International Office.

Registration System for Tutor Recruitment

Applications are accepted periodically in January and July for tutors to be selected for international students visiting Japan in March and September.

※Since tutors are determined according to the number of international students, you may not be selected as a tutor even if registered. Thank you for your understanding (the decision will be made after considering your major and faculty).

Steps after initiation of tutor system

Please submit "Tutor Record Book" by the first day every following month (the next day in the case of a holiday). In addition, please submit an "Activity Report" every six months. Make certain to present materials before the deadline. If the submission is delayed, the payment of the compensation will also be delayed.

International Student Tutor Record Book

Submission Deadline: By the first day of every following month (the next day in the case of a holiday).
※Make certain to have the supervising instructor's stamp
※Make certain there is no deviation between the reported time and actual time spent
※Fill out the instruction contents in as much detail as possible
※If corrections are needed, draw a double line through the entry and stamp over it

Activity Report

Submission Deadline: Quarterly (mid-semester)
For activities from April to September…End of September
For activities from October to March…End of March

FAQ

Basics

What is the tutor program?

Q

The tutor program is when a tutor selected by Nagasaki University supports an international student in their study and research. The tutor is appointed by the international student's academic supervisor. Tutors can also help international students with language difficulties, understanding customs, daily life, etc.

A

How long is the term of the tutor system?

Q

Every year for 11 months from April to February.

Spring semester: From April to September

Fall semester: From October to February

The basic term can be from a half-year to a full year. However, it varies among which international student one is in charge of. Tutoring activities begin in March and September when international students arrive in Japan.

A

How many hours are needed for tutoring?

Q

We anticipate around two hours per meeting. 100 hours per year or 50 hours for half a term is standard.

A

I heard that I will receive "compensation" if I work as a tutor …

Q

Tutors that have been assigned international students will receive compensation in the amount of 1,000 yen per hour. The compensation pay is limited to 50 hours in a half term or up to 100 hours per year maximum.

A

Can anyone become a tutor?

Q

Not everyone can become a tutor.

Tutors are selected from students of Nagasaki University based on the recommendation of their supervisors (or the supervisor in charge of the international student) and the field studies should be related to what the international student is majoring in. Please refer to the Tutor Guidebook for more details.

A

If selected to be a tutor

What should be done with the required documents received?

Q

You should fill out the tutor registration application forms and submit it to the Liaison Center for International Education Administration office by the due date.

Click

here

for the Bunkyo campus map. On the map, we are at number 10 on the second floor.

A

I have lost the forms. What should I do?

Q

You can download the forms below or you can pick them up at the Liaison Center for International Education Administration office.

A

I have some questions about filling out the forms.

Q

Feel free to ask the staff at the Liaison Center for International Education Administration office.

A

What should I write in the Record Book?

Q

Please fill in details about the activities you have done to help support the international student as a tutor. (Please confirm that there are no omissions in entry or errors!)

A

How is the payment of compensation received?

Q

Compensation payment will be transferred to the registered bank account every other month.

*Please fill out the distributed registration form properly.

*When there are discrepancies in the submitted Record Book, compensation payment may be late.

A

*A person who has already registered as a TA (Teaching Assistant) or RA (Research Assistant) should notify as such. Feel free to ask the Liaison Center for International Education Administration office. Each faculty has international student supervisors who are also available for consulting in addition to the staff at the Liaison Center for International Education Administration office.

Various Downloads

Various forms can be downloaded from below.